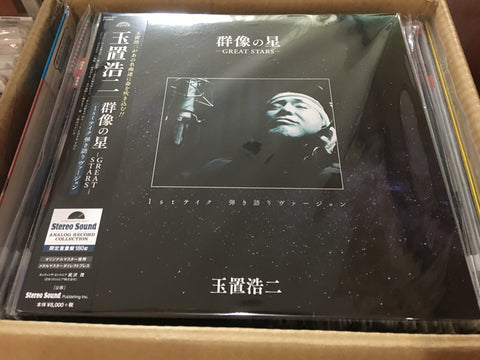 Koji Tamaki / 玉置浩二 - 群像の星 LP 33⅓rpm
Pickup currently unavailable
Product Information
Barcode: 4571177052384
Label: STEREO SOUND

Pressing: Japan Press

Release Date: 2020
Country Of Origin: Japan
Product Format: LP
Language: Japanese
Number Of LP: 1
Product Weight: 400g
 This is the one which gets you closer to an exceptional vocalist, KOJI TAMAKI.
"GUNZO NO HOSHI〜GREAT STARS" is a cover album of greatest hits of singers whom KOJI TAMAKI admires. Now this gem of musical works, "GUNZO NO HOSHI〜GREAT STARS", is released from Stereo Sound as a high-quality analog record on the 13th July, 2020.

With his love and respect, KOJI TAMAKI emotionally sang signature songs of 10 artists, who had all regrettably passed away. The recordings were not of a familiar style of singing with full-band backing but of the valuable first take of singing solo with a guitar.

The original CD of this cover album was released in 2014 exclusively for the members of "Cherry", a fan club of KOJI TAMAKI and ANZENCHITAI. It was his first covers of greatest hits and, for our privilege, we have become able to reproduce it as its first analog record.

We have released several SACD and analog records of ANZENCHITAI and KOJI TAMAKI in the past, specially selected the songs and applied appropriate production procedures for the purpose of listening on high-end audio components, earning high evaluations for them. With these backgrounds, we were granted a special permission to produce an analog record of the album.

The master used for the LP is a PCM48kHz/24bit digital file, which was recorded by the limited staff in the KOJI TAMAKI's private studio ― and the original mixdown master before mastering for CD.

The precious original digital master was brought to the cutting studio of NIPPON COLUMBIA CO., LTD in Minami-azabu, Tokyo. In the studio the master source was stored in NIPPON COLUMBIA STUDIO's bespoke DAW (Digital Audio Workstation), and before the cutting the sound was adjusted on an analog console, then using the NEUMANN's cutting lathe VMS70 and cutting head SX74 the lacquer master discs were completed.

The mastering and cutting were done by Shigeru Buzawa, the greatest engineer of NIPPON COLUMBIA STUDIO, who is well known for his dedicated work and effort to deepen understanding for the music and stay close to the soul of music. Giving his heart to every word and melody, Buzawa has carved KOJI TAMAKI's overflowing emotions into the grooves.

"Believe in each other, and only love can overcome the difficulties."

More intently listen to the songs, more intimately feel such messages from the songs. His soulful voice would seek listeners' seriousness and high-quality performances of their audio component. That is what this analog record means.
Track List
Side A
みんな夢の中 / Minna Yume no naka
(浜口庫之助 / Kuranosuke Hamaguchi 作詞・作曲 享年73歳)
愛の讃歌 / Ai no Sanka
(越路吹雪 / Fubuki Koshiji 享年56歳)
圭子の夢は夜ひらく / Keiko no Yume wa Yoru hiraku
(藤 圭子 / Keiko Fuji 享年62歳)
やっぱ好きやねん / Yappa Sukiyanen
(やしきたかじん / Takajin Yashiki 享年64歳)
I LOVE YOU
(尾崎豊 / Yutaka Ozaki 享年26歳)

Side B
月のあかり / Tsuki no Akari


(桑名正博 / Masahiro Kuwana 享年59歳)

初恋 / Hatsukoi


(村下孝蔵 / Kozo Murashita 享年46歳)

時代おくれ / Jidaiokure




(河島英五 / Eigo Kawashima 享年48歳)

あの素晴しい愛をもう一度 / Ano Subarashii Ai wo mou ichido




(加藤和彦 / Kazuhiko Kato 作曲 享年62歳)

男はつらいよ / Otoko wa tsuraiyo




(渥美 清 / Kiyoshi Atsumi 享年68歳)